We are meeting at Tempelhof [date TBA] to go inline skating. It would be great if you could join us 😀 We are meeting at 2:00 pm (5pm is better if it's hot).
Levels: All levels are welcome. Lots of beginners join us, so don't be shy 😀
Meeting point:
We'll meet in the Southwest corner of Tempelhofer Feld. I'll be there with a bright red T-shirt on and a black cap (and skates obviously 😛 ).
Closest public transport is S-Tempelhof (Südring S41/S42/S45) or U6-Tempelhof. It's is about 3 minutes from the entrance of the S-Bahn across Tempelhofer Damm, then you enter the park, pass a few bicycle racks, continue the path to the right hand and then there is already the toilet container and next to it two concrete benches, where people will be busy changing their shoes (see the big blue X in the lower left hand corner below)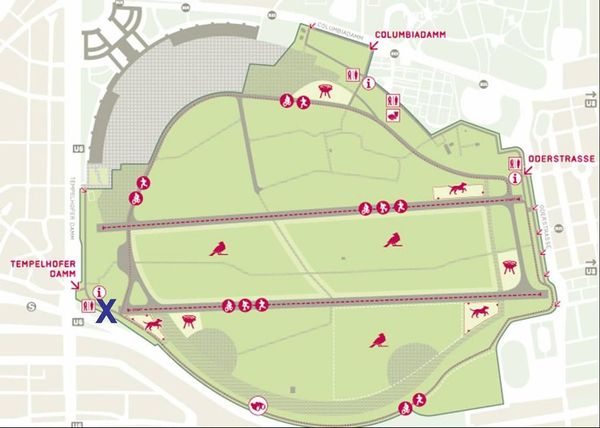 What to bring:
There is no changing and storage place at Tempelhofer Feld so you need to be in comfortable clothes already and you need to bring a small backpack to carry your shoes and other stuff. Some water, sun cream and sun glasses might be helpful.
Equipment:
Own inline skates required as there is no rental station nearby.